MACHINE VISION, SENSOR & ID
Our teams are ready to assist you in improving your bottom line through innovation. We can design, build and implement your solution as well as train you and your end customer on all disciplines we represent.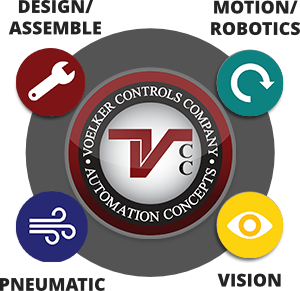 VISION – We SEE what others DON'T, Quality Begins with Us.
Challenge our team of vision experts to solve your most complex quality problems. In conjunction with the inspection we can also apply the best solutions for reading one dimensional and two dimensional bar codes; track and traceability has never been easier. Have an application that needs three dimensional inspections? We can do that as well. We love doing what others cannot-so put us to the test.
We also conduct monthly training classes; introduction to vision, maintain an existing vision application (geared toward technicians), one dimensional and two dimensional bar code reading and advanced vision development. We also do on location training tailored to a specific customer's needs. Come and "SEE" what we can do for you.
Part inspection
Barcode reading
Industry leading speed and reliability
WHAT YOU NEED.
THAT'S WHAT WE DELIVER.
VOELKER CONTROLS COMPANY
---
3000 Commerce Center Dr.
Franklin, OH 45005
TELEPHONE:  937-433-8128
FAX: 937-433-6076 
EMAIL sales@voelker-controls.com